Book of Business

Unlocks value of Medicare Advantage and Med Supp at enterprise scale
Manages data between Marketers and Carriers

Consolidates and normalizes enrollment files, BoB files and commission reports

Improves data quality to enable more informed choices and improve profits

Diagnoses issues quickly with drill-down reports and detailed policy-level views

Integrates with existing systems via API or files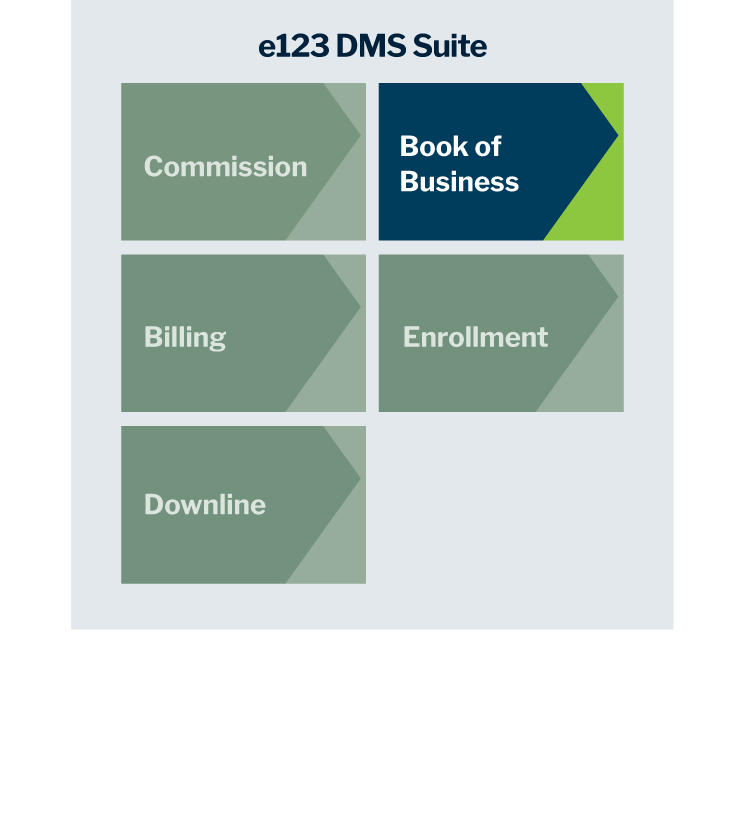 Multi-carrier integration
Integrate files from multiple carriers and systems into a comprehensive, normalized management system.

Consolidated view
Consolidate enrollment, book-of-business and commission files

Cleaner data
Get more value from your Book of Business
Each carrier has different ways of expressing statuses and often in the specifics of how payments are paid to you. e123 normalizes that data for you to make your data more actionable.

Utilize Commission Advances
Empower downlines to pay agents up front
123 Book of Business uses the e123 Commission module for calculation, tracking, and auditing of advances and commissions. Grow fast with less risk.

Commission generation
Agent and Partner commission generation with many commission structure options.

Detailed reports
Report on key metrics like placement rates, rapid disenrolls, and persistency by carrier, product, downline and agent.

Find missing commissions
Find gaps and take action easily
e123 Book of Business lets you see expected vs. actual - by date, by carrier, by product, by downline, by agent - down to the policy level.



More empowered teams
Better data drives better outcomes
e123 Book of Business uses your schema standards and definitions to normalize data from all sources. This flows to the marketing team for better decisions; provides cleaner data for BI teams for improved reports and models, and eases engineering work massaging data piped to other systems.
Tools to diagnose and solve problems
When you're dealing with "noisy" data, errors tend to compound. With e123, your operations team will be able to quickly see what's happening when situations arise. Spike in Rapid Disenrolls? With e123, you can drill down to identify possible causes. Then easily build defensive - or proactive - retention campaigns.
One System

"e123 gives us a common system for all our employees and clients."
Instrumental

"E123 was instrumental in keeping us alive in 2020... Every customer support call was answered, every payment was collected, and every commission was paid. And it's all because we switched to E123 and were able to make our team home based using a cloud-based system."
Find a fit with your organization
There's no better way than a discussion
Medicare sales and distribution are complex, and your situation is likely unique. e123 solutions are highly configurable - no coding required! Let's talk and see how e123 Book of Business will help you meet your objectives.