The FLExibility to drive growth
e123 Downline
Enables you to manage and grow a motivated distribution channel
Manage downline distribution partners and their agents

Upload files to quickly onboard new distribution

Easily add and onboard new partners with self-service Agent portals

Maintain partner information and aggregate results for each partner

Maintain and roll-up critical agent information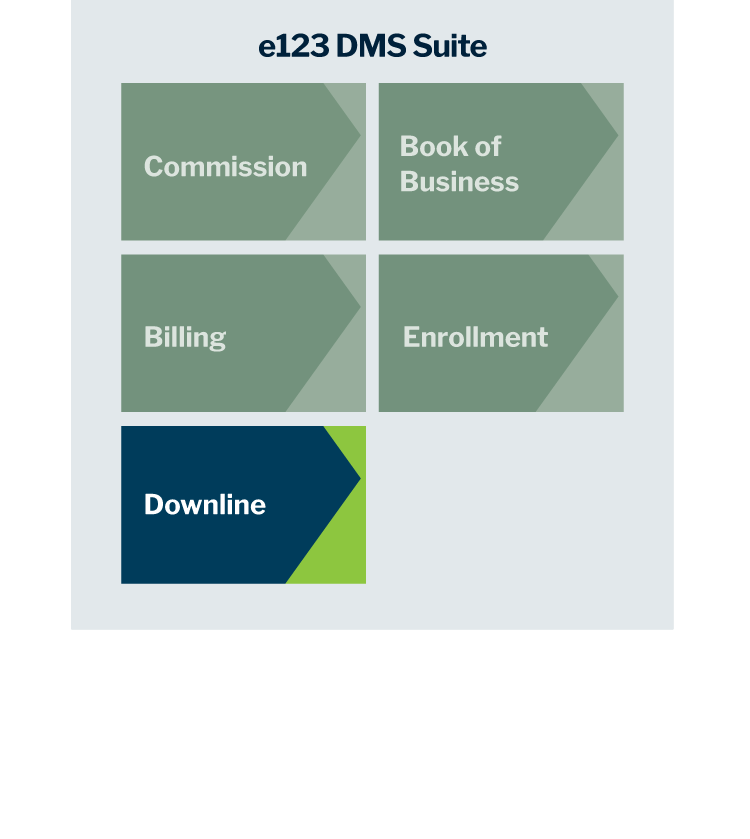 Made from Trees
Downline hierarchy is core to the e123 design, giving you access to purpose-built tools.


Know your channel
Easily check each partner and producing agents to validate compliance.


Support downlines and internal agents
Track agent licensure, appointments, insurance, CE, and everything else you need to ensure compliance.


Quickly add partners
The process of onboarding can be semi-automated or easily provide agent enrollment portals.

Custom workflows
Easily configure custom workflows for onboarding, notifications for key dates, etc.

Downline reporting

Easily see reports on all agents by downline partner, including licenses, appointments, and other documents as needed.
A complete solution for managing distribution
Successfully growing revenue through distribution requires a range of processes, tools, data and analytics. e123 Downline makes this both practical and efficient. Designed to manage distribution hierarchies, it makes setting up partners a snap. Enables you to track performance. Combined with other e123 modules to provide a suite of tools to the downline partners,enable commission payment management. And perhaps most importantly, it makes you a great partner - because instead of passing files back and forth, everyone is looking at the their own views of the same data.
Everything We Do

"We manage everything we do with e123, from cost accounting and invoices to customer relationship management technology, We've been able to operate in a fully automated fashion, we've simplified our processes and eliminated mistakes."
One System

"e123 gives us a common system for all our employees and clients."
Instrumental

"E123 was instrumental in keeping us alive in 2020... Every customer support call was answered, every payment was collected, and every commission was paid. And it's all because we switched to E123 and were able to make our team home based using a cloud-based system."
Find a fit with your organization
There's no better way than a discussion
Growing distribution effectively will unlock tremendous value - cost effective growth. We'd love to talk about how you might benefit from a purpose-build Distribution Management System, and perhaps making use with the growing network of e123 partners - over 250,000 agents strong.