FLEXIBLE, POWERFUL, STREAMLINED
e123 Enrollment
Enroll single or multiple products to drive cross-selling. Supports consumer and agent portals.
Flexible enrollment portals

Single product, bundle, and multi-product checkout options

Flexible rating/qualification system, with "smart" multi-product support

Connects to policy issuance systems for automated issuance

Rich product management - easily adjust pricing, benefits, and more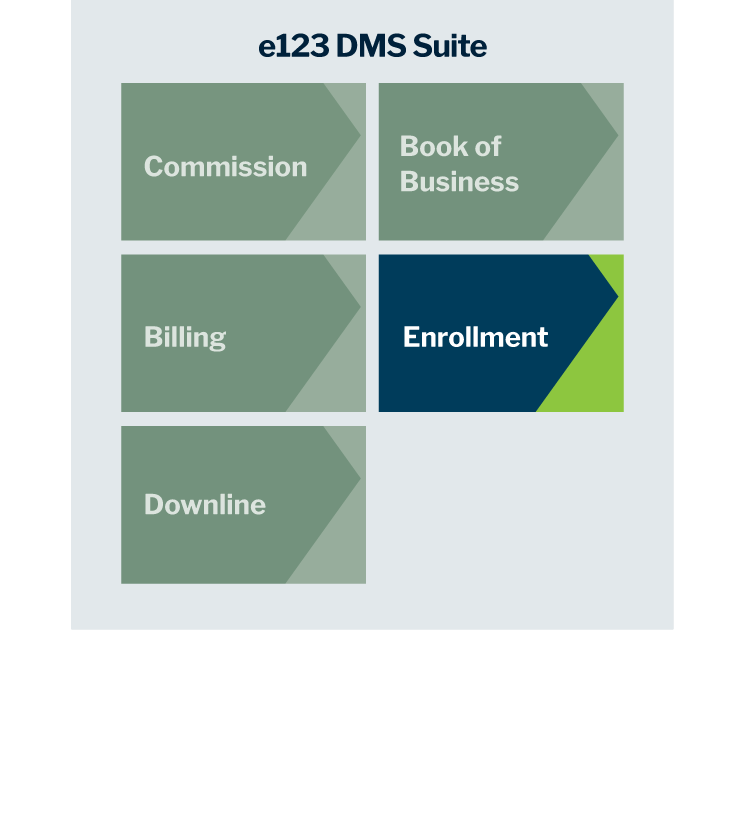 Fully white-labelled
Flexible for your own use and for downline partners as well. The focus is on your brand.



Enable experimentation
Dynamically driven portals make it easy to try bundles of benefits or different policies; even when those policies are administered by completely different systems.



Check-out only implementations
Already have a selling portal? Leverage e123 for checkout and fulfillment.
|




Automate fulfillment
Connect to policy issuance systems easily
e123 enables you to automate fulfillment; whether that's document assembly with e-signature that is sent to the correct group, or API based issuance.

Controlled and compliant
Ensure products are sold only by licensed and appointed agents. Region-specific controls enable you to control where policies can be offered.

Rich product pricing
Support for multiple pricing methods gives you flexibility and speed to market. Ensure up to date and precise pricing with dynamic API calls. Or, speed implementation with pre-loaded pricing tables based on geography and demographic data.

Multi-product knockouts
e123 Enrollment enables configuration of knockout questions to apply across policies dynamically depending on what's loaded in a cart. Speeds enrollment and reduces agent time.

Expanded product access
Easily add products from supported carriers
The e123 Product Marketplace offers thousands of pre-integrated products you can add to your product mix.
Enrollment flexibility and efficiency
e123 Enrollment provides the features you need to make your agents productive while enabling them to sell more. Plus you get the ability to update products available through the no-code, configuration driven interface - enabling you to easily experiment with new marketing ideas. It's ideal to help you become creative while empowering downline partners.
Everything We Do

"We manage everything we do with e123, from cost accounting and invoices to customer relationship management technology, We've been able to operate in a fully automated fashion, we've simplified our processes and eliminated mistakes."
One System

"e123 gives us a common system for all our employees and clients."
Instrumental

"E123 was instrumental in keeping us alive in 2020... Every customer support call was answered, every payment was collected, and every commission was paid. And it's all because we switched to E123 and were able to make our team home based using a cloud-based system."
Find a fit with your organization
There's no better way than a discussion
Enrollment is at the heart of getting new customers - whether agents or customers are entering the information. Get past the challenges of siloed systems with e123 Enrollment. Have an enrollment challenge we can discuss?