e123 API's & Integration
e123 integrates to a wide range of systems via APIs, flat files, and document-based integrations.
Integration Engine abstracts connections for business users

API and File based external integrations supported

Rich API suite enables your IT team to call e123 services and incorporate e123 into your overall IT strategy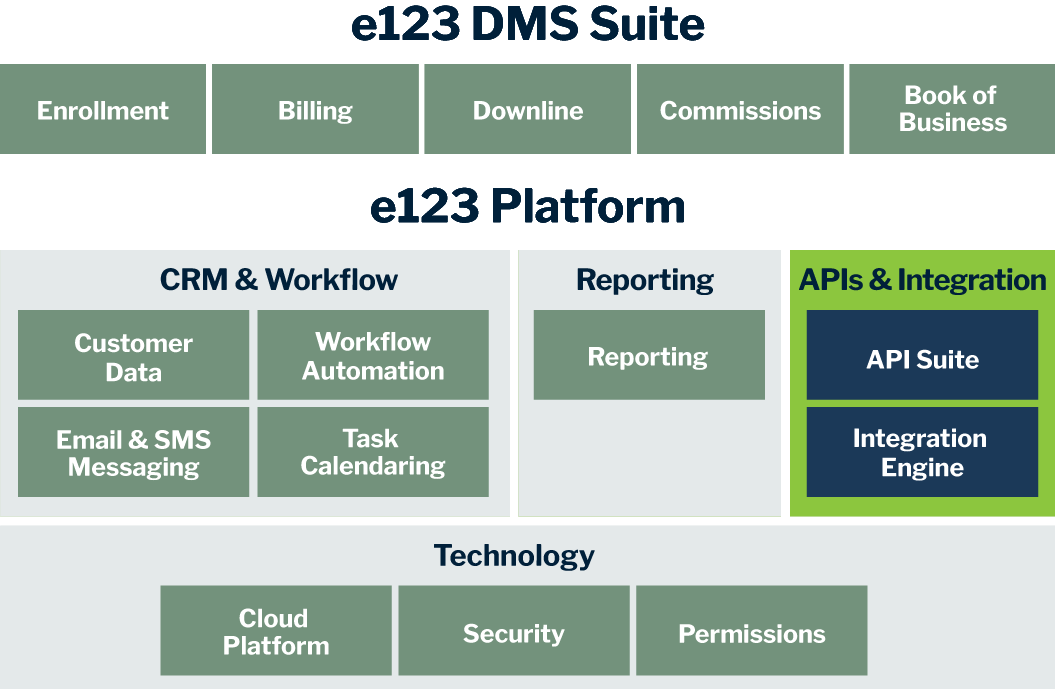 Integration engine
Connects with external systems, providing a seamless interaction within e123 product screens. Where needed, easily upload files into a module.

API and file based external integrations.
e123 connects to 3rd party systems, like Carrier systems for pricing or underwriting through real-time API calls or file-based interactions depending on the party. e123 is also able to create document packages with e-signature for carriers as needed.



e123 API suite
e123 enables your IT team to integrate with the various modules to create custom integrations with your other systems.
Rich Features Supporting Every Module
e123 API and Integration features are a part of every e123 module, providing flexibility and power.
Everything We Do

"We manage everything we do with e123, from cost accounting and invoices to customer relationship management technology, We've been able to operate in a fully automated fashion, we've simplified our processes and eliminated mistakes."
One System

"e123 gives us a common system for all our employees and clients."
Instrumental

"E123 was instrumental in keeping us alive in 2020... Every customer support call was answered, every payment was collected, and every commission was paid. And it's all because we switched to E123 and were able to make our team home based using a cloud-based system."
Find a fit with your organization
There's no better way than a discussion
Let's talk about how e123 can help you achieve your goals.